From the board room to the card room, women executives reign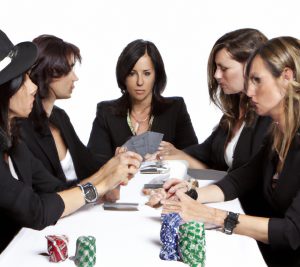 Historically, poker has been labeled as primarily a "man's game". Well, things are changing! Just recently, Ema Zajmovic became the first-ever female champion of an open WPT Main Event.
Over the past six years, Philly Casino Parties has produced more "all women" poker nights, tournament fundraisers and poker social events. Most women participants in these functions are executives from area companies, who find these special evenings a great way to network and discuss common issues affecting women in the work place.
Philly Casino Parties usually starts the evening with a free poker lesson to help the novice get started or for honing the skills of the more experienced player. From there, the evening converts to friendly play or tournament competition for a local charity.
The event is usually hosted/sponsored by a company or organization looking to network with other like minded groups. Venues have ranged from the corporate office and board room to area hotels and restaurants with private facilities. While playing with cash or cash prizes is prohibited by law, participants pay a fee for participating in the evening. All proceeds are then donated to an area charity or non-profit organization.
Besides the value of networking with fellow women executives, poker offers valuable lessons in running a business. In a recent article in Fortune Magazine, the founder of Dress for Success and Crisis Text Line and former CEO of Do Something, Nancy Lubin stated "she learned many of her most valued business lessons playing poker. There's something about learning to value your own hand, learning how to play your position at the table," Lublin told moderator Jennifer Reingold, Fortune editor-at-large. Even more critical for women: "Learn how to fold, say goodbye to that hand, and move on. We hold on to stuff."
According to Steven Weisz, founder of Philly Casino Parties, "Women-only networking events have been commonplace at least since 1997, we have simply added a new twist. The best of our women only poker events are competitive, unencumbered by agenda, and have the right mix of people, often leading to lasting business relationships."
To learn more about hosting your own "women only" poker event, visit www.phillycasinoparties.com or call 484-469-0288.