Team Building through playing Poker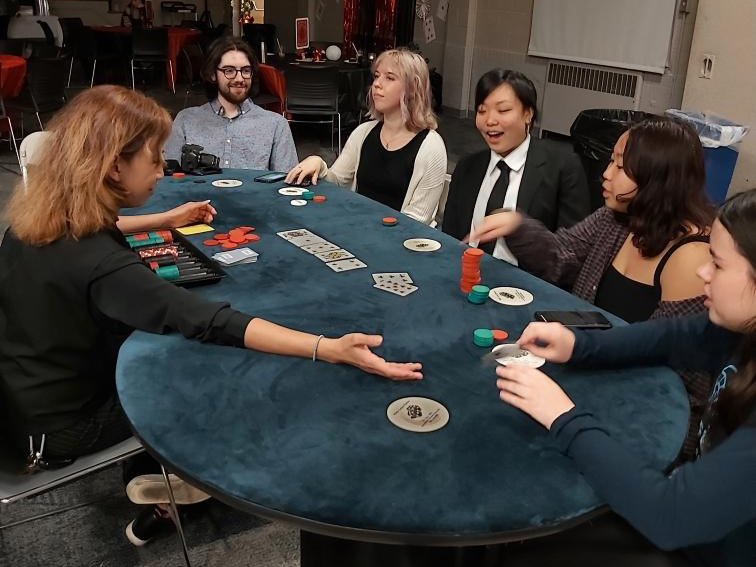 If you want your team to gain an edge, build their confidence, and develop tough negotiating skills, then get them to the poker table. That's right, the poker table! The skills learned at the poker table parallel the competencies needed for professional success.
Your team will learn such skills as –
How to negotiate your way into or out of anything
How to increase your power and confidence
Read and interpret non-verbal cues
Become more bold and assertive
Manage risk and recover from loss
Think out of the box and out of your comfort zone
Never Played Before? Not A Problem!
Our hand-picked dealers are also master instructors and will have your groups learning the ins and outs of the game in no time. We offer the option to start each session with a one hour instructional period before actual tournament play.
Once the lessons are over, its tournament time! Break up your participants into teams for a no time limit tournament. We take care of everything for you – the tournament ladder, table assignments, blinds, countdown timer and officiating. We even offer a second chance tournament for those knocked out of the game early on.
You can choose to play for bragging rights or a tournament team trophy or even have the teams compete to have a donation made to a charity of choice.
Groups can range from 27 players to 300 players in sessions that average 3-4 hours and costs less than $40 per person.
Give us a call today to learn more about how Poker Team Building from Philly Casino Parties
can improve your team's skills and your bottom line – Tel. 484-469-0288